Unique Room Layouts, Tailored Architecture and More
Getting a custom home's structure right inside and out is a skill that's earned through several years of study and many more through real-life experience. The professional home designers at J&J Custom Homes ensure the custom home of your dreams is planned perfectly from the start and build well from ground up. Leveraging earned knowledge and expertise, our home construction consultants guide prospective home builders through developing a floor plan, construction schematic with blueprints to achieve the home of their dreams. The home plan creation process often unfolds harmoniously with the home's design process, with decisions made that influence each other. We'll help you keep it all straight and on budget.
Contact the custom home building experts at J&J to get started building your dream home!
J&J's Custom Home Planning Process
Hiring a pro home design team like J&J Custom Homes is essential to getting the home you want at the cost you expect. After all, failing to plan is planning to fail. It isn't enough to just have a good eye for design – architectural and engineering principles need to be accounted for and regulatory requirements must be followed. In fact, while the State of Wisconsin allows anyone to design a custom home, plans must be demonstrated to meet the general engineering standards of Uniform Dwelling Code (UDC), SPS 320-325 of the Wisconsin Administrative Code and its adopted references.
With the help of our team of experts your custom home's design will meet compliance the first time, saving homeowners headache and the cost of redrawing plans. From the foundation to the roof's peak, we'll make sure your dream home is exactly what you want it to be, while in compliance with local rules and regulations.
Expertly-Crafted Home Plans for all Architectural Styles
Designing a custom home plan is a collaborative effort between the client, the home building contractor, the designer/architect, and the interior designer. Together they make decisions on behalf of the new home owner's requirements and against constraints of site potential, budget, dimensions, building standards, HOA requirements and more.
The home construction planning process is dynamic and can take on many forms and timelines. Your personal project manager from J&J Custom Homes will make sure your new home build runs like a well-oiled machine. Our creativity and innovative problem solving makes J&J the perfect partner for your custom home build.
Detailed floor plans – Room dimensions, cross section details, entrance and window locations
Basement plans – Detailing foundation layout with footings, bearing walls, posts and slab features
Exterior elevations drawings – Drawn from 4 different sides, includes unique finishing aspects, and additional options if
applicable
Structural supports – specifications for floor and ceiling joists, spacing and spans, window and beam headers and
more
Electrical schematics – mainly a guide for estimating purposes; laid out for each level, includes notes for circuits,
switchers, outlets and lighting
HVAC & Plumbing Plan – layout of ductwork, vents, equipment and their controls
Roof Plan – view from above detailing hips, ridges, valleys and their measurements
Your Custom Blueprint Package
Once the homesite evaluation is complete, our team will meet with you to go over the specifics of your home. Understanding the basics (number of floors, bedrooms, bathrooms, garage size, etc.) we'll start to delve into the details. We expect these to be multiple wide-ranging conversations covering topics regarding the interior, the exterior, and back again. These processes are always unique by definition, but we won't stop until you're happy with everything. In the end, you'll have a set of blueprints for your custom home including:
Custom Home Exterior Architecture

A home's exterior look and feel sets the tone for the new home's full design, giving neighbors and passers by insight into the owner's sense of style and taste. Nothing makes a first impression quite like a custom-designed home exterior, and if you're planning on building new, you want your personality to shine through.
With our know-how and attention to detail, J&J's home planners will help develop schematics for the architectural and organizational aspects of your home's site plan and home exterior while meeting your specifications on home style, size, colors, materials, roof design, number and types of entrances and windows, and much more. Our team will make the most out of any architectural style direction or aesthetic across a wide range of home types including:
The Classics:
The styles of homes that built America. J&J can stay faithful to these classics, give them a modern flourish, or borrow elements from any for a truly bespoke home design.
Ranch – low pitched roofs, single story, rectangular or L-shaped footprint
Cape Cod – Smaller in size, converted attic lofts, dormer windows, weathered look
Colonials – Two stories, symmetrical window placement, side gabled roof
Cottage – smaller footprint with open floor plans, asymmetrical exteriors, small windows
Craftsman – long sloping, roofs with eaves, exposed beams, covered porch, built ins
French Country – Steep pitched roofs with dormers, exposed beams, tall windows, weathered look
Greek Revival – greek columns, large protected porches and grand entrances, rectangular framing, triangular roofs
Mediterranean – Spanish tile roofs, arched entrances and windows, stucco exterior
Victorian: steep, gabled roofs, elaborate decorative woodwork, heavy ornamentation

Queen Anne
Gothic Revival
Second Empire

Italianate – hipped roofs, belvederes, tall & narrow windows, overhanging eaves
Tudors – steep, gabled roofs; mixed material: exposed timbering on stucco exterior,
Farmhouse – large porches, smaller windows, basic rectangular floor plan
Contemporary Styles:
Modern – Open floor plans, flat roofs, sharp geometrical shapes, large windows
Prairie – Think Frank Lloyd Wright: low, flat roofs with overhangs, brick or stucco exteriors, straight lines
Mid Century Modern – minimalist, asymmetrical layouts with clean lines, multi-level interiors, flat roofs
Personalized Exterior Design Aspects
While a general architectural style direction is a useful guiding post, J&J's home-building clients have the option to choose from endless elements borrowed from a variety of architectural styles to truly put their mark on their new custom home. Among the many decisions we'll face with you include choices of items like:
Windows – do you opt for casement windows framing in a giant picture window? How many arched windows do you want? What about a bay window? Let's talk about options!
Entrances – do you dream of a grand Victorian entrance? Maybe a carport, or a Tudor-style overhang leading into a foyer? Let's figure it out!
Siding – Endless options from wood to vinyl, composite to fiber cement, from brick to stone and stucco…or mix and match. We'll point you in the right direction!
Roofs – Do you want a hipped roof in a high pitch, low pitch, with jerkinhead shingles? Not sure? We'll work with you!
Orientation – In Wisconsin, southern exposure is great; but that isn't all that goes into it. Do you want your living room getting more light in the winter, or maybe it's the kitchen? We'll help you decide!
Custom Home Interior Floor Plans & Layout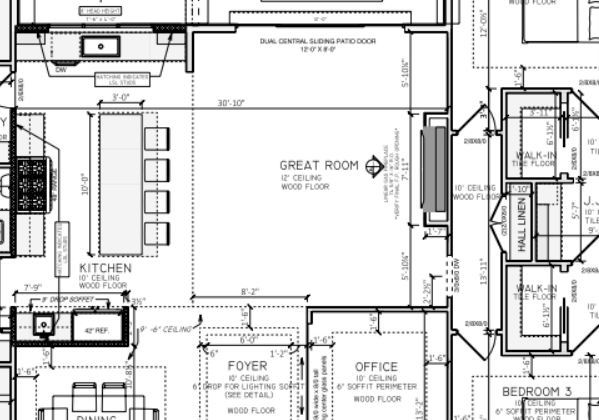 Nailing the interior layout is key for a successful custom home build. During our planning sessions, we'll have both high level and detailed conversations about how you want your living space to feel, present and perform.
Whether you have an idea for an open space concept, a traditional floor plan or something in the European layout style, our designers and architects will develop a plan to make the best use of your custom space that works in harmony with your custom home's exterior and your family's lifestyle.
Guiding Interior Layout Principles
You may have fully realized plans for the layout or maybe you'd rather have us head to the drafting table to design a floor plan. Either way, we'll be sure your custom home's interior layout meets the basic principles of good home design:
Maximized use of space
Optimized functionality
Flexibility of use
Best use of light
Befitting of lifestyle
Achieving intuitive flow
Complete Floor Plan Design – A Room for Every Need
What makes a custom house a home is its ability to satisfy every part of your lifestyle. In partnering with J&J's experts, you'll be guided not only to the best layout of each room, but also their placement within the floor plan for the best accessibility and flow. You'll be guided to the place where architecture meets practicality in all a home's rooms, including:
Kitchens
Bathrooms
Bedrooms
Guest Rooms
Closets
Basements
Garages
Home Offices
Dining Rooms
Saunas
Movie Theaters
Rec Rooms
The Next Steps in the Custom Home Building Process
The next steps in J&J's process often develop concurrently with the home layout planning phase. The home's design phase and its details will often inform the home's layout and vice-versa, with interplay occurring between both processes. J&J will work with you to hash out all your ideas and make them a reality. But first, you'll need to contact us!