Wisconsin Homes Custom-built from the Ground Up
Permits are pulled, homesite is evaluated, the custom floor plan is developed and design choices are set. With all that done, it's time to break ground and start your custom home's construction. Just like the previous steps in the custom home building process, J&J Custom Homes is by your side to manage and execute the actual construction of your home.
From pouring the foundation, framing and finishing to tile work, painting, & roofing, the team at J&J Custom Homes will see the whole process through to the end and beyond. Your personal project manager will be your liaison; answering questions, finding solutions, offering advice and communicating concerns with the construction teams. Communication is key to a successful custom home construction project – we make sure our clients have open access to the expertise of their project managers. You will be listened to and your questions will be answered ASAP.
Get in touch with our custom home builders for the best in local home construction partners.
J&J's Custom Home Building Steps and Timelines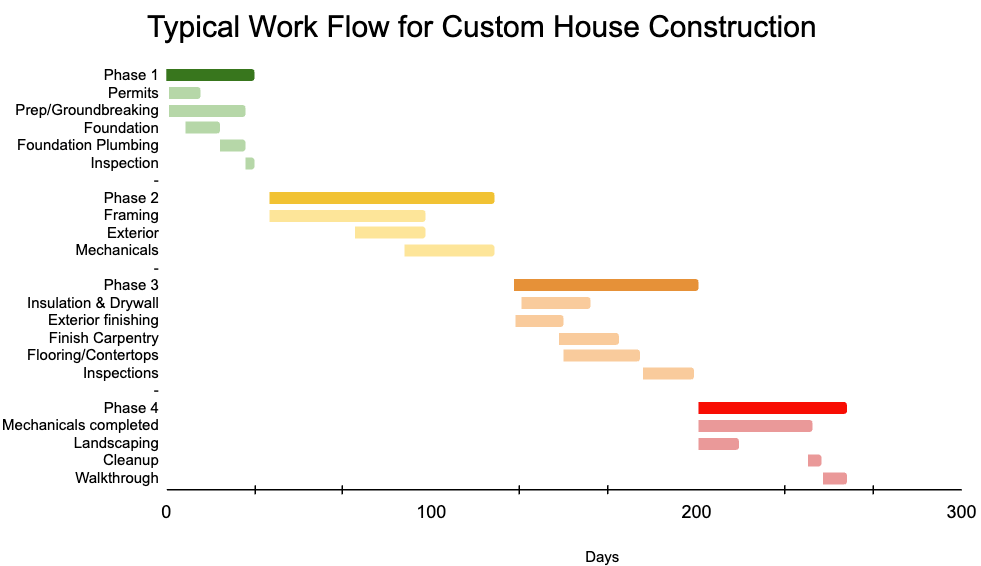 After the first ceremonial shovel of dirt takes place and ground is broken for your new home, what's next? Well, it depends: each project has a different set of needs, making no two timelines are exactly the same. However, J&J Custom Homes adheres to a general structure and order of construction work – not just because of our (or our clients') preference – because it makes the most logistical sense and keeps your project on schedule.
A simple way to think about the construction process is to break it into phases, with an official inspection wrapping up each stage. For the sake of efficiency, some elements of these phases may happen concurrently or in a different order. Your personal project manager will clearly communicate with you throughout the entire build process, sticking to deadlines and quickly addressing any possible issues or delays.
Home Construction Phase 1 – Groundwork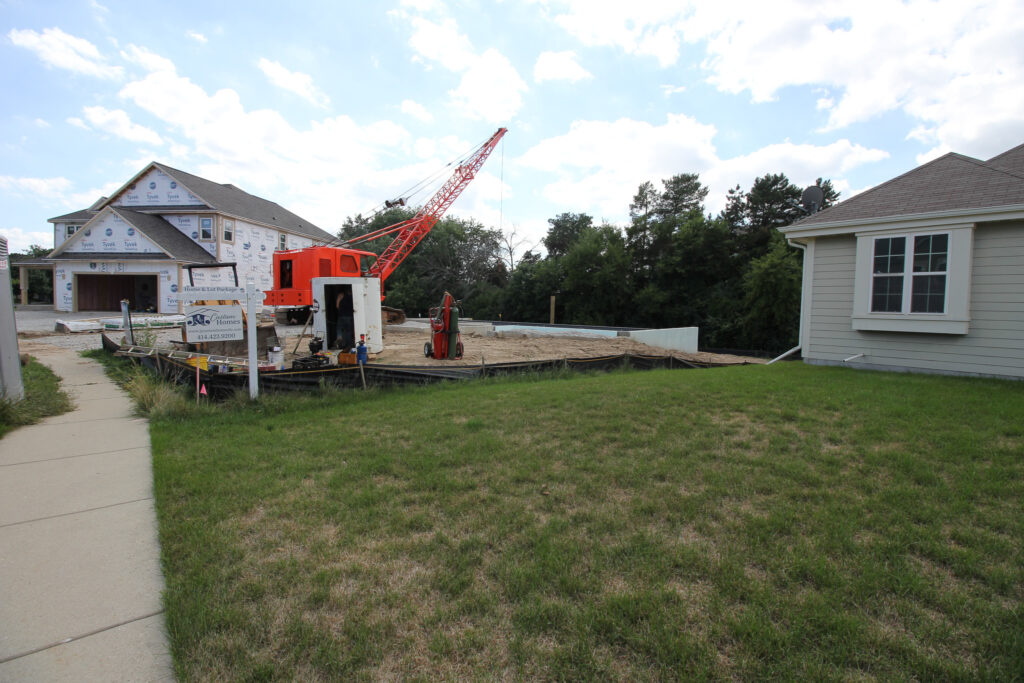 Phase 1 Timeline – Approximately 1 month
Phase 1 of custom home construction typically includes:
Permitting – J&J works with the local municipalities to approve the start of construction, zoning and grading, electrical permitting, plumbing, etc.
Site prep – heavy equipment used in leveling the topography of the homesite, removing rocks and trees if needed
Breaking ground – Digging trenches for basement foundation, service lines & septic tank (if applicable)
Foundations – poured and footings fitted, cement curing and waterproofing
Plumbing installation – floor drains,vents, and water lines
First inspection – local city housing inspector ensures all foundational aspects are up to WI construction standard codes
Home Construction Phase 2 – Rough Framing, exteriors & mechanicals
Phase 2 Timeline – Around 3 months (depending on home size and weather conditions)
Phase 2 of custom home construction typically includes: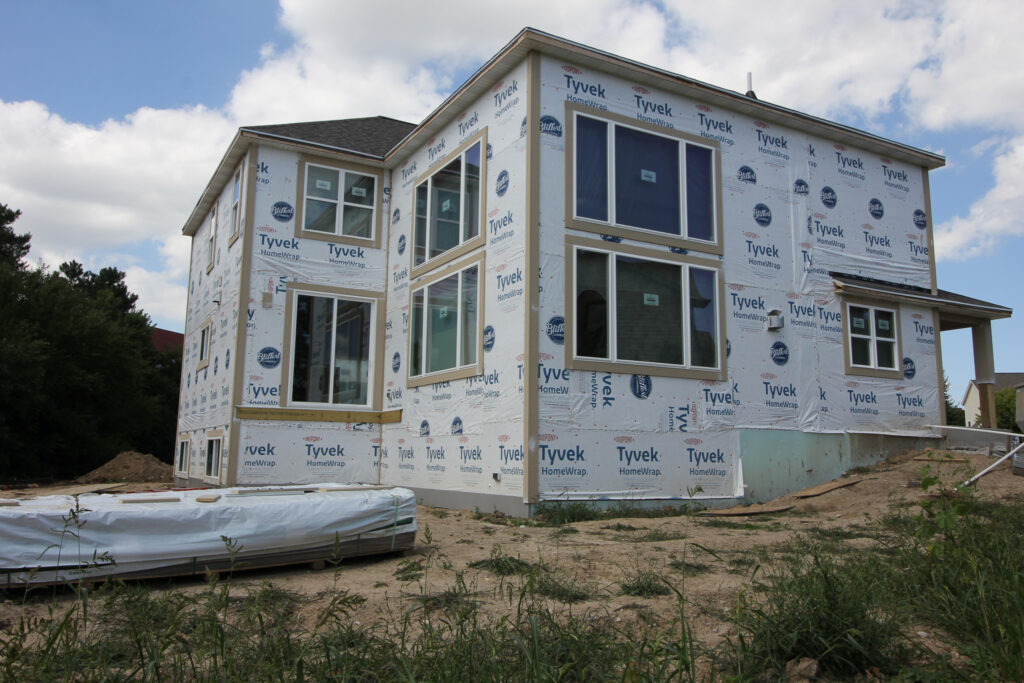 Rough framing carpentry – building the studs and braces forming the roof, walls and floor systems
Rough exterior installation – securing plywood or OSB sheathing on exterior walls and roof
Exterior wrapping – preventing plywood exterior rot in WI weather with a breathable, waterproof barrier installation
"Drying in" the exterior – Installation of roofing, siding, windows & doors, shingles, gutters, air vents and siding
Plumbing, HVAC & electrical installation – specialists run pipes, ductwork and wiring, connecting vents, water supply and sewage lines
Second round of inspections – checking mechanical systems, plumbing, electrical and rough framing; inspection completion may take 2-3 separate
Construction Phase 3 – Drywall, flooring finishing & more
Phase 3 Timeline – 1 to 3 months
Phase 3 of custom home construction typically includes: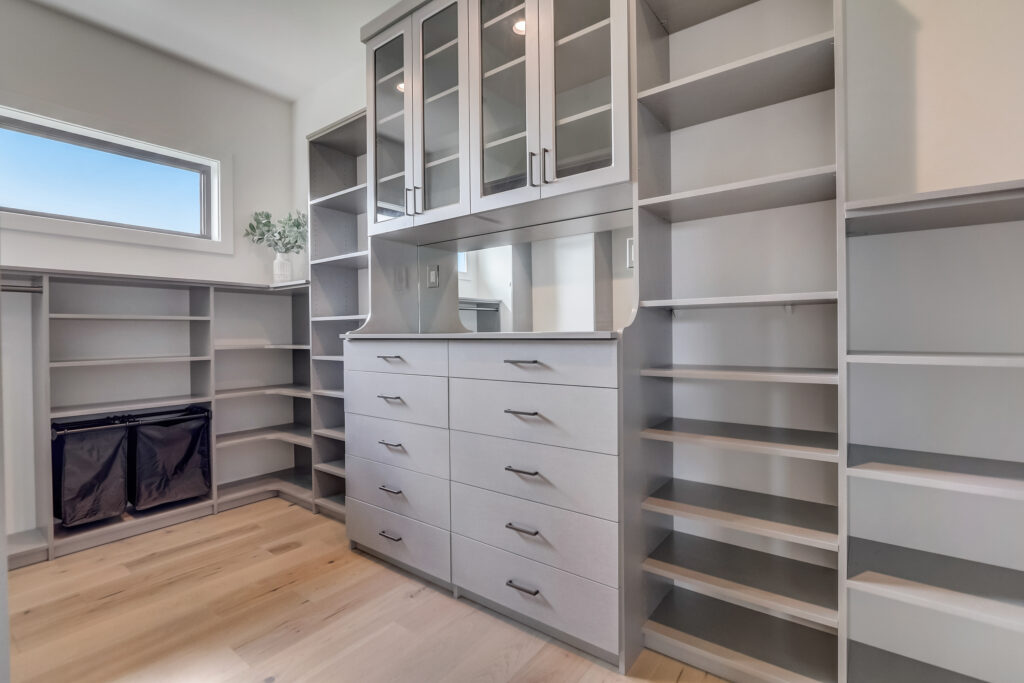 Insulation installation – fiberglass, cellulose, spray foam, or other types of insulation
Drywall hanging – gypsum drywall taped, textured and painted
Exterior finishing – siding finishes, brick and stone work executed
Exterior cement pouring – driveway, patios and walkways completed
Finish trim carpentry complete – interior doors, stairs, windowsills, baseboards, trim and moldings
Storage & design aspects installed – cabinets, bathroom vanities, fireplace mantels, etc.
Flooring & countertops installation – countertops set and flooring laid
Yard/property leveling – completion of grading and filling in advance of landscape work
Construction Phase 4 – Final details & finishing touches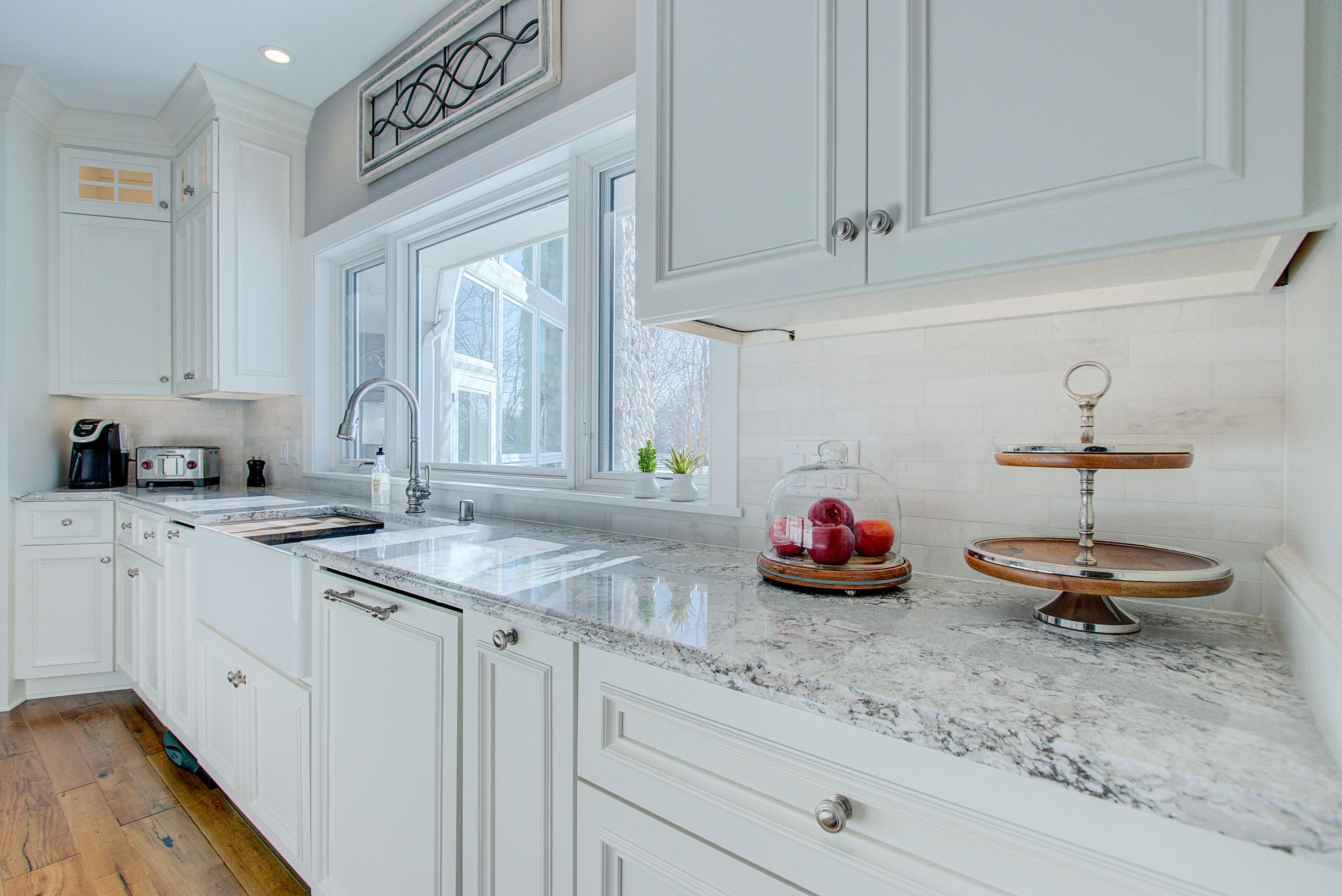 Phase 4 Timeline – Around 1 to 2 months
Phase 4 of custom home construction typically includes:
HVAC work completion – set up and tested thermostats, meters, furnace and A/C
Lighting & electrical completion – installation & configuration of fixtures, light switches, power outlets and electrical panel
Water fixtures added – installation of faucets, sinks, showers and toilets
Landscaping completed – installation of lawn, trees, shrubs and decorative elements
Clean up process – trash, dumpsters and detritus is removed, floors are swept, touch ups are made, if needed
Final inspection – building inspector checks for defects, coding violations, and issues a certificate of occupancy
Final walkthrough – you, the owner of your brand new custom home, get the chance to inspect the home and address any issues that need correction
Complete Custom Home Building Services, from Start to Finish
From land/lot acquisition all the way to the final brick laid, J&J Custom Homes is in your corner to make sure that the custom home building experience is smooth, efficient and as fun as possible all the way through. Owing to our years of experience in the home improvement sector, our clients quickly discover that J&J's level of attention to detail, commitment to communication, flexibility and overall quality adds tremendous value not seen in working with other custom home builders.