Designing the Little Things with Big Impact
For many Wisconsin residents building a custom home, the design process is the stage where they get to let their personality show through in their future home. With the help of professional home designers like J&J Custom Homes, you'll be able to build your dream home the way you want with all the design details that reflect your personality. You'll choose the styling and custom details on both the interior and exterior of your new custom home. Our team will work with you to achieve the design aesthetic you're looking for, from basement to attic, while staying true to your budget. We'll guide future dream home owners toward a new home that satisfies their unique tastes.
Get in touch with our design team to get the style you want in your custom home!
What Style of Home do you dream of?
J&J's talented design team will gather information regarding your favored home aesthetic and put it to work creating a cohesive architectural motif that is uniquely you. Whether you're after a three quarter cape cod with a mid-century modern interior design or a blend of British colonial/Neoclassical architecture paired with a coastal interior vibe, our team will work with you to realize your dream home.
New Home Styling & Design Aesthetics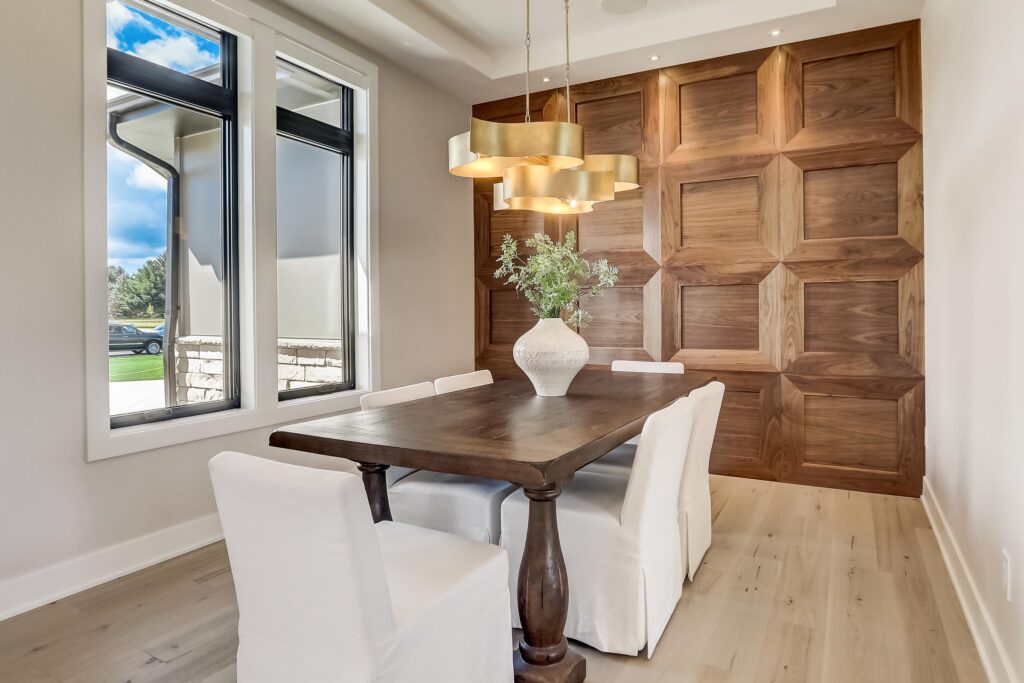 While the home plan development stage deals primarily with the structure and layout of the home, it also takes strong cues from the homeowners' design aesthetic choices. For this reason, aspects of floor/exterior planning and design will often happen in concert and even at the same stage in the process. Design styles will influence the shape of the construction (and vice-versa!) but once the motif is established, the fun work comes down to the details in the design process. Every project is unique and you may find yourself jumping back and forth between the floor plan and exterior architecture plan, and we're here to keep everything on track and to simplify as much as needed.
Exterior Material Selection
We work with our custom home building clients to lay out all the best options for a home's exterior. Our design team will find the best way to achieve the look and feel you're after, while making recommendations on how it can be done while staying within budget. You won't want to plan on pairing custom cedar shake shingles with vintage cream city brick and stained bow windows if it puts you way over budget. At the same time, you don't want to sacrifice crucial design aspects if money can be saved in other ways. We'll help you make those tough strategic design choices when considering important design elements, including:
Shingle style and color
Siding material and color
Window type, shape and size
Stone and masonry style, composition and color
Entrance style, material and color
Custom Home Interior Designs
Your living space is your sanctuary. You may have every interior design element worked out perfectly and just need a bit of help tying it all together, or you may need the full complement of our interior design services – either way, J&J is in your corner.
Aspects of Personalized Interior Design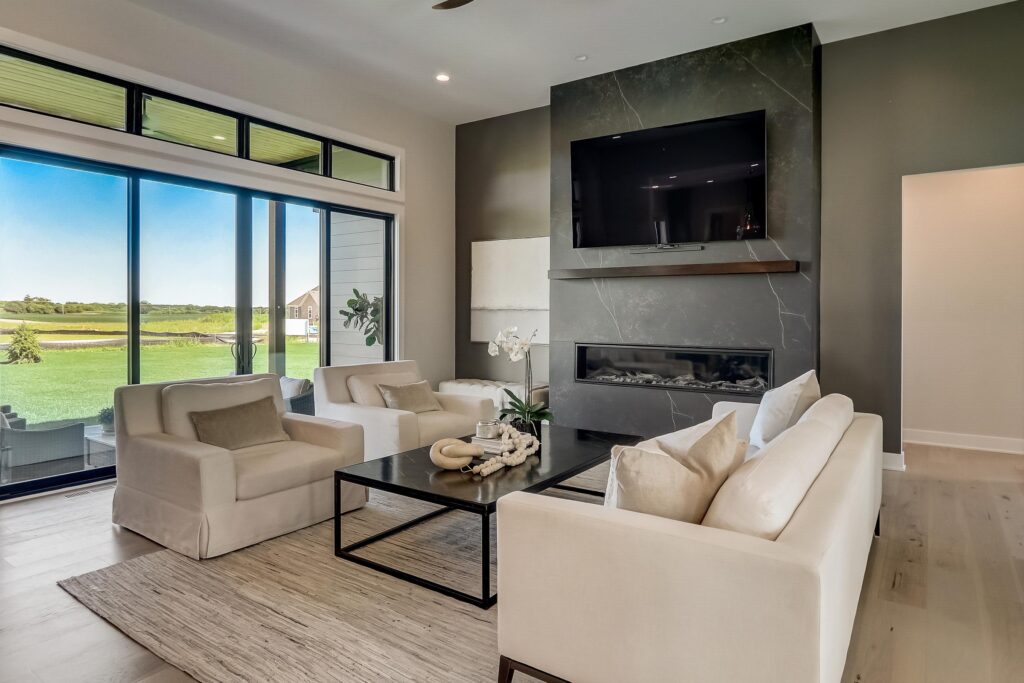 By working together with J&J's design team, the look and feel of your home's interior will mirror what you see when you close your eyes and imagine your dream home.
We'll help you make the most of positive and negative space, keeping the lines and form of the structural features working harmoniously with the room's furnishings. We'll help guide you through the best use of light, form, color and texture so your home's interior will pop the way you want it, and remain subtle in all the best ways.
Interior Design Options
Swatches, swatches everywhere – This is the fun part where homeowners get to pick the details that make their home an extension of themselves. From cabinetry to countertops, paint colors to tiling, canned lighting to carpeting, you'll give us feedback on what you're after and we'll help you find the materials to make it happen. Options abound for many aspects including:
Tile & Stonework
Hardwood & Carpeting
Windows
Doors
Millwork
Cabinetry & Hardware
Countertops
Fixtures
Lighting
Paint & Finishes
Guiding Interior Design Principles
Coming up with your own home design (exterior, interior or both) is a gratifying and challenging process, and as the homeowner, you are an integral piece of the design puzzle. Nobody knows what you want better than you after all! Our team works alongside our clients to be sure their stylistic desires are met, while artfully staying in line with the best practices for interior design. Some of the principles we adhere to include:
Balance – finding an equilibrium in the visual "weight" of items in a room
Harmony – a sense of peace achieved through aspects of the design complimenting each other
Rhythm – tasteful repetition of design elements to guide the eye around the room in a pleasing manner
Proportion and scale – how each item's size and visual weight fits in among the other items and the size of the room
Emphasis – establishing a focal point of interest, usually an architectural element like a fireplace, but sometimes furniture
Contrast – a way to emphasize certain elements is to contrast them against other elements in the room
Details – those little things that create continuing intrigue once the macro design elements have passed through the attention span
The Next Steps in the Custom Home Building Process
Considering that steps 1 – 5 encompass what we consider "planning steps", step 6 could be thought of as the "doing steps"… In other words, it's the home construction phase. Here's where the rubber meets the road, hammer meets nail and the all the anticipation and planning becomes a reality.